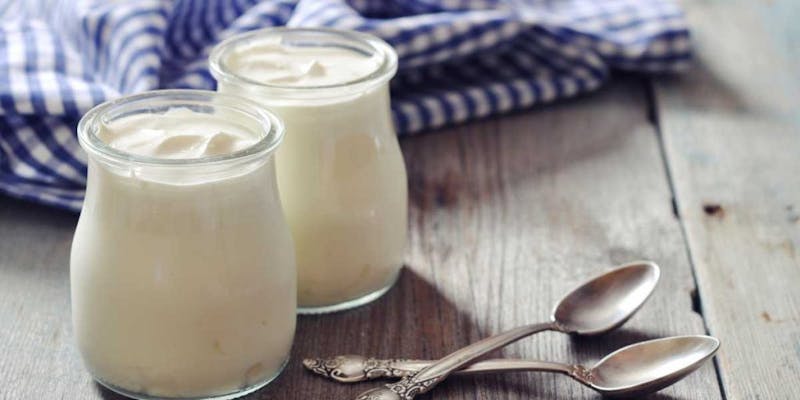 After weight loss surgery, the emphasis on protein is relevant as it helps prevent muscle breakdown, anemia and hair loss. Sometimes, if before surgery a patient was accustomed to eating processed foods, he or she might end up wandering in the supermarket aisles comparing food labels in an effort to get the best product with the highest protein content. Although they may have the best intentions or have the highest motivation to make changes, the supermarket aisles are not the best place to get back to health.
Homemade recipes not only meet the protein intake recommendations but can also help take control on sugar, carb or fat intake; without the hassle of trying to make sense out of labels that to get started with are confusing or may contain obscure ingredients. These 5 recipes are tasty, healthy and super easy to make! (and btw, money-savers).
---
Homemade Drinkable Yogurt
Ingredients:
½ cup Natural, plain Greek yogurt or Kefir
½ cup Frozen or fresh fruit
½ cup Plant based milk alternative such as almond, coconut, hemp, flaxseed or Ripple's milk; add more depending on preferred consistency
Erythritol or Stevia, if desired, to taste
Instructions
a. Blend all ingredients on medium-low until smooth and evenly combined
b. Pour into mason jars, refrigerate.
Or, pour into ice cube trays and once frozen put them into mason jars to enjoy later as popsicles, or let the ice cubes float in your protein shake.
---
Soaked Living Nuts and Seeds
Ingredients:
1 cup Raw, organic, unsalted nuts or seeds (macadamia, cashews, walnuts, almond, pecans, Brazil, sunflower, pumpkin, etc)
½ tablespoon Sea salt per cup of nuts/seeds
Enough filtered water to cover the nuts and seeds until they are completely submerged
Instructions
a. Place each type of nut or seed in a separate mason jar. Half-fill a large jar.
b. Cover with filtered water.
c. Add sea salt
d. Leave to soak overnight. Cashews or other skinless nuts and seeds should be soaked for no more than 4 hours or they'll become slimy
e. Rinse with filtered water
f. Spread on a rack to air dry. Or, dehydrate or dry at low temperature (150⁰F) for 12 or more hours until crispy
g. Keep refrigerated for a few days, or freeze in ice cubes trays for later use
---
All-in-one High Protein Smoothie
Ingredients:
1 scoop Chocolate Whey Protein Powder
1 cup Plant based milk alternative
½ Frozen or fresh papaya. I personally prefer frozen.
Cinnamon, to taste
Instructions:
c. Blend all ingredients for 40 seconds or until smooth
Optional: To boost nutrition, blend in a bariatric multivitamin and after blending sprinkle ½ teaspoon of probiotics.
---
Berry Chia Pudding
Ingredients:
1 scoop Chocolate Whey Protein Powder
1 cup Plant based milk alternative
2 tablespoons of chia seeds
½ cup frozen or fresh berries
2 ounces Soaked nuts
Instructions:
d. Place chia seeds in a large mason jar
e. Cover chia seeds with plant based milk alternative, fill half the jar as chia seeds will expand and you will add more ingredients before serving
f. Store in the refrigerator and let soak overnight
g. Before serving add whey protein, mix; if desired, add more liquid depending on preferred texture
h. Add berries and nuts. Enjoy!
Optional: sprinkle ½ teaspoon of probiotics before serving
---
Cardamom Protein Panna Cotta
Ingredients:
1 tablespoon Grass fed unflavored powdered gelatin + 100 ml hot filtered water
1 scoop Vanilla Whey Protein Powder
1 cup Natural, plain Greek Yogurt
2 tablespoons Erythritol
½ teaspoon Vanilla extract or paste
½ teaspoon Grounded cardamom
1 tablespoon Orange zest
Fresh berries to serve
Instructions:
i. In a medium bowl, combine gelatin and hot water and whisk until gelatin has dissolved
j. Blend all other ingredients -but the orange zest and berries, in the blender until smooth
k. In a large bowl, place the blended ingredients and slowly add the gelatin mix; stir until there are no lumps
l. Scatter orange zest and berries into the mixture
m. Pour mixture into ramekins and leave in the fridge to set overnight
n. Before serving, add more berries to garnish
Optional: sprinkle ½ teaspoon of probiotics before serving
To a long, healthy, productive, and happy life!
Share with