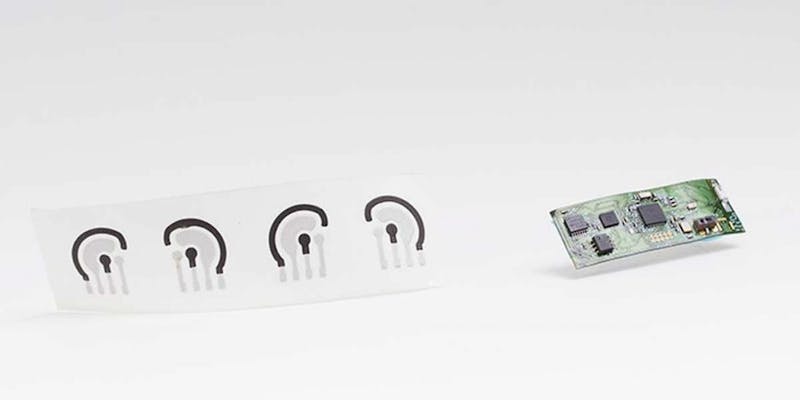 Wearable fitness devices can track pulse rates and physical activity over time in order to achieve long-term health goals; however, more advanced technology is being developed to monitor what's happening inside the body in real time.
Researchers are now creating wearable devices that analyze the effects of activity on biochemical markers usually obtained from blood samples. By interfacing a device directly with the skin, sweat can be collected to determine its volume and levels of biochemical markers such as chloride.
Knowing how much fluid one is losing through sweat and how that's affecting their fluid-electrolyte balance and acid-base balance during exercise, may help one know when to increase or decrease fluid and/or electrolytes.Abnormal hydration status can be fatal or lead to an increased risk for kidney failure, infections, altered mental status, or decreased physical performance.
Researchers at Northwestern University have created a soft flexible epidermal microfluidic patch that can detect sweat volume and rate, along with markers of health status found in sweat.A new process that can make ultra-thin electronic tattoos using a household printer has been developed by another group of researchers.While smart tattoos that can monitor a person's health have been developed before, this new method could allow people to print them cheaply in their own homes.The elastic nanosheets could be used for applications such as drug delivery or for monitoring a person's health, or the amount they have drunk.The researchers used an inkjet printer to print black lines that can conduct electricity onto a nanosheet.
The whole procedure can be done on a home inkjet printer at room temperature without the need for a sterile room, so the tattoo can be produced fairly easily and cheaply.The ultra-thin film, developed by the researchers at Waseda University in Japan, has elasticity and flexibility 50 times better than other polymer nanosheets and sits comfortably on the skin.
The film is only 750 nanometers thick – 120 times thinner than a human hair – and could change what wearable electronics look like, from things such as wristwatches to other items less noticeable than a band-aid.The research team also developed a method of joining electronic components without the need for soldering, enabling the elastomer film to be thinner and more flexible.
The electrically conductive black lines are connected to components such as chips and LEDs by sandwiching them in between two nanosheets – without the need for special conductive adhesives.The film sticks onto the skin without the need for glue, tapes or chemical bonding, and it can stretch over the skin without easily breaking the circuits.
The researchers tested the tattoo on an artificial skin model and found that it worked for several days.The technology is expected to have applications including human-machine interfaces and sensors in the form of electronic tattoos for the fields of medicine, healthcare and sports training.
One of the most recent tech tattoo efforts we heard about comes from the University of California, San Diego. It's designed to measure blood alcohol levels in a quick, inexpensive and non-invasive way and replace the oft-used techniques of pricking someone's finger or using breathalyzers which can be gamed.
There are different projects all over the globe: Microsoft Research, MIT Media Lab, Duo Skin, Tech Tats; you named it, tech is always there to rock and roll!!!
Share with