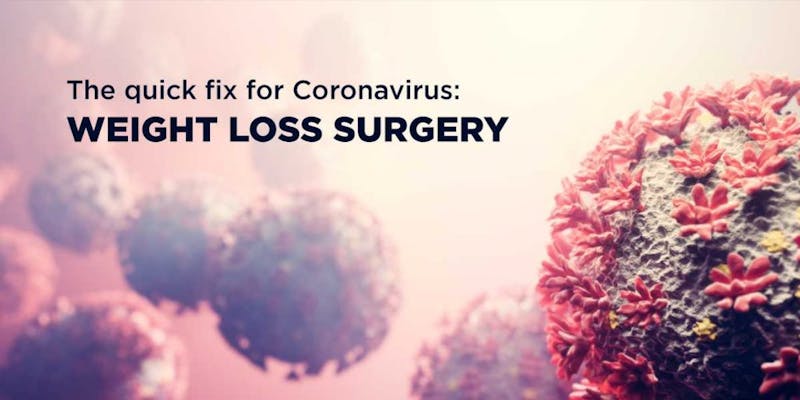 It takes a pandemic to recognize a pandemic. Now that the meaning of the word is fully understood globally, it will be easier to understand that the increased risk factors in a subset of the population is none other than metabolic disease. It is these that are most likely to develop a severe form of disease that will end up hospitalized in critical care including intubation and mechanical ventilation. Let's start with the facts.
What is Covid-19? Everyone knows by now that it is a Coronavirus that started in China and has spread across the world over. What is Metabolic syndrome? Everyone should know that it is a cluster of conditions that increase your risk for stroke, heart attack and type 2 diabetes; the cause is really not known. Both Covid-19 and Metabolic Syndrome have reached pandemic proportions. For the first time in the history of the world, two deadly pandemics clash, one playing off the other, and one increasing the mortality of the other.
While one pandemic is highly published in the media, the second one has been put on the back burner. I believe that sooner or later the media will be placing more attention on Metabolic Syndrome for what it is– a chronic, inflammatory, debilitating and life threatening disease. Metabolic syndrome conditions include excess weight, obesity, type 2 diabetes, hipertension (high blood pressure), high triglycerides, high cholesterol (dyslipidemia), cardiovascular disease, sleep apnea, polycystic ovarian disease, infertility and even some cancers.
Metabolic Syndrome is caused by excess insulin and insulin resistance. What is the cause of insulin resistance? Too much insulin in the first place! The cause of too much insulin is now under rigorous scientific scrutiny. It would appear that it most likely is truly caused by an environmental compound or molecule, with a touch of genetics predisposing certain iniduals in developing the disease. Some of the most revealing research is being done in pesticides and fungicides in our food. Preliminary studies show that there is a certain correlation of higher incidence of diabetes in areas with more use of certain compounds of organophosphates in our food.
But back to the insulin theory. We will talk more about what causes the unhealthy rise in insulin but for the time being let's say it's mainly two things: the food we eat, and the toxins added to the food. I sum it up in the following: too many carbs and too many toxins! The reason this is so important is that high insulin is the main cause of the disease that is killing America.
The most recent data shows that up to 52% of the U.S. population has pre-diabetes or have full fledged diabetes. Having pre-diabetes is like being "kinda" pregnant. Sooner or later the pre-diabetic will develop the disease. This would literally mean that half of the adult population in the U.S is in fact diabetic! Another study shows that 50% of the U.S. population have some type of cardiovascular disease. More and more research indicates that diabetes and cardiovascular disease are one in the same, just different manifestations of the same disease.
A recent study looked at adults between 2009 and 2016 and found that a mere 12.2% of them were fit. This means that 9 out of 10 people have some type of metabolic condition. With these numbers, and believe me when I tell you (we're not trying to scare you) these are the actual numbers coming from validated research. I believe that Metabolic Syndrome deserves the spotlight–front and center recognition. Since metabolic disease is a proinflammatory state, it is easy to understand why Covid-19 can raise havoc in iniduals with metabolic impairment and create a more aggressive form of the disease with higher lethality.
In the UK, where Obesity is also at an all time high, it seems that the government has their head in the right place! A push for reestablishing weight loss surgery can mitigate the higher risk in a matter of weeks. Boris Johnson was urged by The British Obesity and Metabolic Surgery Society to back increased access to bariatric operations. There is enough evidence that the treatment, approved by the National Institute for Health and Care Excellence, produces weight loss within 12 weeks and reverses type 2 diabetes and hypertension–all three are major Covid-19 risk factors.
As a weight loss surgeon for a quarter century, I know the benefits of weight loss surgery first hand. I thoroughly enjoy the constant emails and tracking data that shows how metabolic syndrome reverts in a matter of weeks. Patient's lose a substantial amount of weight, but most importantly they are off all their medication for their blood sugar, blood pressure, cholesterol etc. This is a game changer for those at higher risk for developing the severe form of Covid -19. The risk is mitigated In a matter of weeks.
When I decided to offer these life saving procedures to the international patients, I had to design a program that was safe and hassle free. Obesity Control Center was born with that objective in mind. We are documented as the first Global Bariatric Healthcare institution to offer weight loss surgery to the traveling patient. We are the pioneers of what is now called health tourism. Safety and quality healthcare has been our focus since day one. Being in Mexico, our overhead costs are much less and that is what helps make the procedure affordable. Since safety is our priority, and since we now live in a world where Covid-19 is a constant menace, we have risen up to the challenge and created a Covid-19 Best Practices Program at OCC.
Obesity Control Center is now certified in Best Practices in the Covid-19 era. We have further streamlined the process putting emphasis on safe travel hospital stay and return back home. We are also working with Global Healthcare Accreditation to establish the first Covid-19 Best practices accreditation that helps establish standards of care and safety in the hospital and medical settings as well as the hotel and transportation and all third parties involved in the care of the traveling patient. More on this to come, stay tuned!
Share with