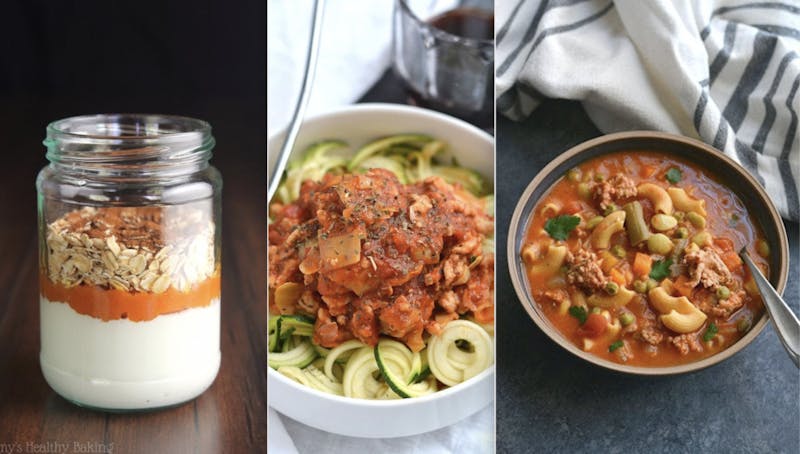 Bariatric surgery can help you get your weight and health back on track, and nutritious eating is part of this overall process. Before surgery, patients should be preparing for certain dietary adjustments that will come after surgery, to help ensure their body is getting the nutrients it needs to heal and drop excess weight.
When you choose the Obesity Control Center for your bariatric procedure, you will become part of the #OCCFamily for life and will be equipped with what you need to succeed after surgery. Our Chief Nutritionist Lucia Chavez leads patients through their new, healthy eating lifestyle, so the changes don't have to feel overwhelming. All OCC patients are guided through five years of post-op care with our comprehensive education program. You will have 24/7 access to our doctors and real-time weight-loss and nutrition reporting.
> > >>>> > View this post on Instagram>>> > > >> > >> > > >>> > >>

A post shared by Obesity Control Center (@obesitycontrolcenter) on

>
>
> > >>>> > View this post on Instagram>>> > > >> > >> > > >>> > >>

A post shared by Obesity Control Center (@obesitycontrolcenter) on

>
> >
Post-Op Healthy Eating
You might be worried, thinking that we're about to put you on a strict diet, but that is far from the truth. After your bariatric procedure, we will teach you how to nourish your body, not starve it. OCC's nutritional plan is there to help you decarb, detox, and replenish your body with the nutrients it needs post-surgery and into the future.
After performing more than 23,000 successful surgeries at our state-of-the-art weight loss facility, our staff has learned what nutritional habits help our #OCCFamily members succeed, and we've perfected our educational program to match these findings. We help patients optimize their cellular health through nutrient-rich food and supplements. OCC's comprehensive medical and nutritional education program is the result of the lessons gleaned from our patients' journeys, our own experience as health providers, and the experience gained from the application of evidence-based medical and nutrition therapies.
Check out some healthy recipes anyone can enjoy this fall, provided by our very own Chief Nutritionist, Lucia Chavez.
Pumpkin Pie Overnight Oats
Ingredients
1/2 cup (120g) natural Greek yogurt
1/3 cup (122g) pumpkin puree
1/2 scoop of vanilla protein powder
1/3 cup (25g) old-fashioned oats
1 tbsp (12g) Monk Fruit sweetener
1/4 tsp ground cinnamon
Instructions
Pumpkin Puree
Grab 1 pumpkin, cut it in half, and scoop out the seeds and pulp (you can save the seeds and make pepitas!). Place pumpkin in the oven for 45 minutes at 350 degrees. Once finished, remove the skin and place the pumpkin in a blender or food processor until smooth. Add some water if the pumpkin is too dry. To learn more about the health benefits of pumpkins, visit usda.gov
Overnight Oats
Add all of the ingredients to a mason jar or plastic container with a tight-fitting lid and stir until thoroughly combined. Cover and refrigerate for 8 hours or overnight. Serve cold. You may also skip the oats all together and replace them with chia or hemp seeds.
>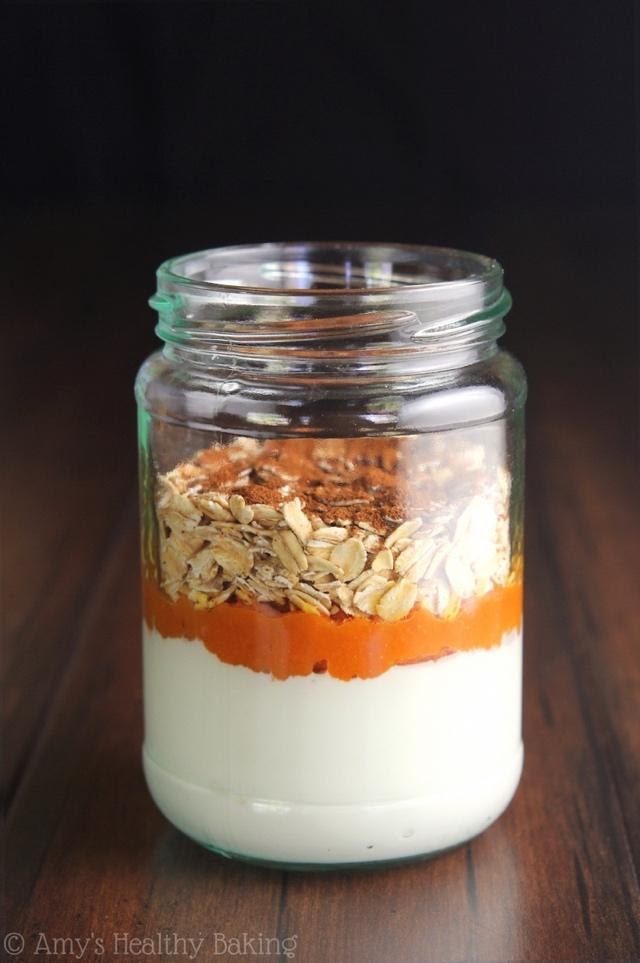 > >
Chickpea Minestrone Soup
Ingredients
1 lb ground turkey or meat of choice
1 1/2 cups chickpea pasta
15 oz diced tomatoes
15 oz tomato sauce
2 cups mixed veggies (frozen)
6 cups chicken broth
1 tbsp extra virgin olive oil
1/2 cup yellow onion (diced)
2 tbsp garlic (minced)
2 bay leaves
2 tbsp Italian seasoning
Salt & pepper to taste
Instructions
Place the olive oil, onions, and garlic in an Instant Pot and set to sauté. Cook 1-2 minutes until onions are translucent.
Add the ground turkey and cook another 5 minutes, breaking up the meat with a spatula as it cooks.
Add the remaining ingredients to the pot, cover, set to pressure cook, and set the release valve to seal. Note: it will take the Instant Pot 15-20 minutes to build up pressure before it cooks, so plan accordingly.
Cook for 3 minutes, then release the pressure valve, uncover and serve!
If you do not have an Instant Pot, you may use a saucepan instead and cook over the stove. Sauté the onions and garlic in the pot, then cook the meat, then add the remaining ingredients. Cook over medium to low heat, stirring occasionally until soup boils. Serve hot.
>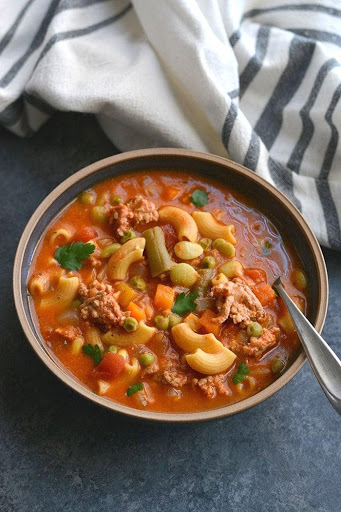 > >
Bolognese with Zucchini Noodles
Ingredients
1 lb extra lean ground turkey breast or ground meat of choice
2 small zucchinis (spiralized)
1 tbsp extra virgin olive oil
3 tbsp minced garlic
1/3 cup white onion (diced)
28 ounces of tomatoes
6 ounces of pesto
1/4 cup low-sodium chicken broth
1 bay leaf
1/2 tsp onion powder
1 1/2 tbsp Italian seasoning
Salt & pepper to taste
Instructions
Heat a large skillet to medium heat. Add extra virgin olive oil, minced garlic, and onion. Stir ingredients together and sauté 2-3 minutes until the onions are tender.
Add the ground turkey breast. Using a spatula, break up the meat as it cooks. Once it starts to brown, add the broth. Stir and scrape any bits off the bottom of the pan.
Add salt, pepper, bay leaf, Italian seasoning, onion powder, diced tomatoes, and pesto. Stir to combine.
Bring to a boil, then immediately reduce to a simmer and cover for 10 minutes.
Once the sauce has thickened, remove the bay leaf.
Portion the zucchini noodles into 4 servings and top with the meat sauce. Enjoy!
>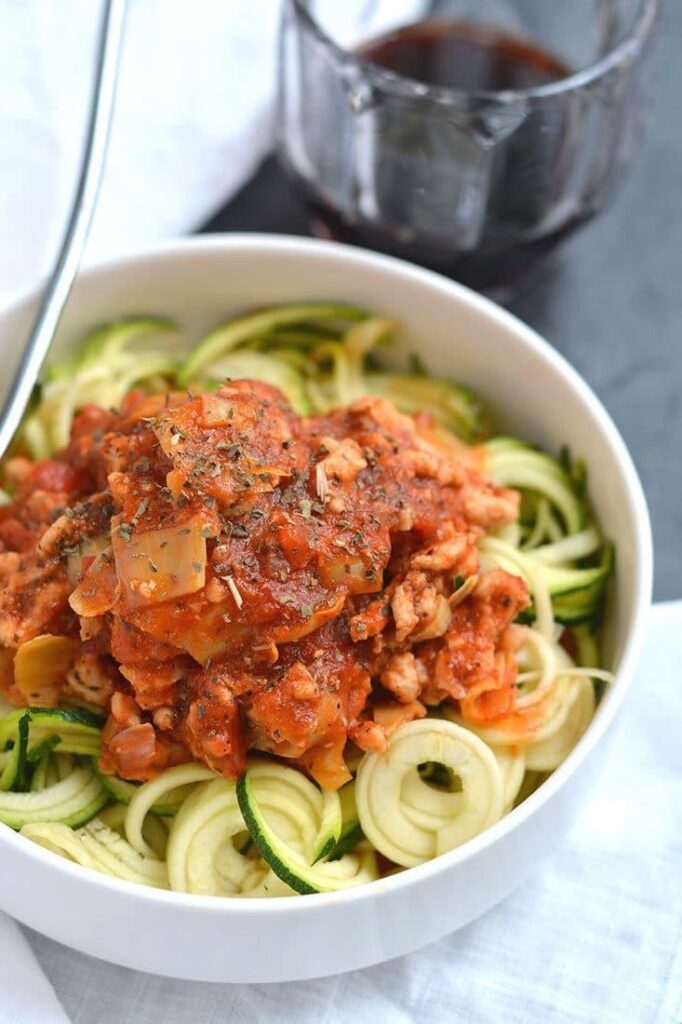 > >
Start Your Health Transformation with OCC Today
You don't have to wait to start your weight loss journey. Contact the Obesity Control Center, just minutes across the border from San Diego in Tijuana, Mexico, or call (866) 893-8005 toll-free to schedule your procedure in as little as 4 weeks.
Share with