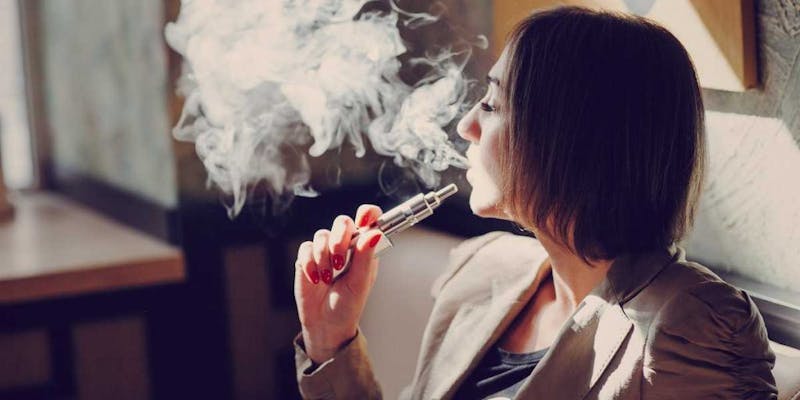 The first concept of an electric cigarette was patented in 1965 by Herbert A Gilbert.
Subsequently, an aerosolized, high-frequency e-cigarette was patented in China by Mr. Hon Lik and Ruyan Technology; it entered the marketplace in 2003 and was patented internationally in 2007 and their use has rapidly spread around the world with or without official authorization thanks to intense publicity and the device's undoubted ingenuity.
They were created to reproduce the smoking experience including handling between the fingers, inhalation, and exhalation of a vapor generated by an atomizer from a liquid cartridge (of variable content), or from a vaporization chamber by electronic heating by a battery that is activated by inhalation or by pressing a button.
Health workers are concerned about the attractiveness to young people and their addictive potential and subsequent transition to conventional cigarettes.
Electronic cigarette smokers, men, and women alike, are usually younger, with a higher socioeconomic and educational level than those of conventional cigarettes. Typically they are not intense smokers and approximately 12-14% of smokers who try electronic cigarettes continue their daily use.
By 2014 there were around 466 brands of electronic cigarettes and more than 7,000 flavorings, on the other hand, the electronic cigarette has been technologically sophisticated incorporating flow sensor, control of the heating device, diode to emit light, rechargeable batteries, cartridges with a discharge of high concentrations of nicotine and possibility of reuse.
The reported nicotine content in electronic cigarettes ranges from 0 (nicotine-free) to 100 mg/mL. Several of the components of the electronic cigarette including flavorings, generate irritants and/or carcinogens; however they are found in smaller amounts compared to the conventional cigarette.
Many organizations and medical societies have developed recommendations and established their position regarding the use of electronic cigarettes, among them the American Heart Association, the Food and Drug Administration.
The World Health Organization (WHO) has established its position regarding electronic cigarettes and recommends: a) preventing the promotion of electronic cigarettes between non-smokers and young people to minimize potential health risks among users of electronic cigarettes, as well as among the general population; b) to prohibit the dissemination of unproven results of possible health effects derived from the use of the electronic cigarette, and c) to protect public tobacco control policies in force against commercial interests promoted by the tobacco industry to promote and regularize Use of the electronic cigarette.
In conclusion, the powerful Tobacco industry has taken the electronic cigarette among its products and perhaps this is one of the biggest threats because it can take advantage of all its promotional machinery to try to place it in all possible homes. Regulation is indispensable; although again, the use of electronic cigarettes has been triggered by the slowness of institutions and countries to react.
Dr. Uribe
OCC Health