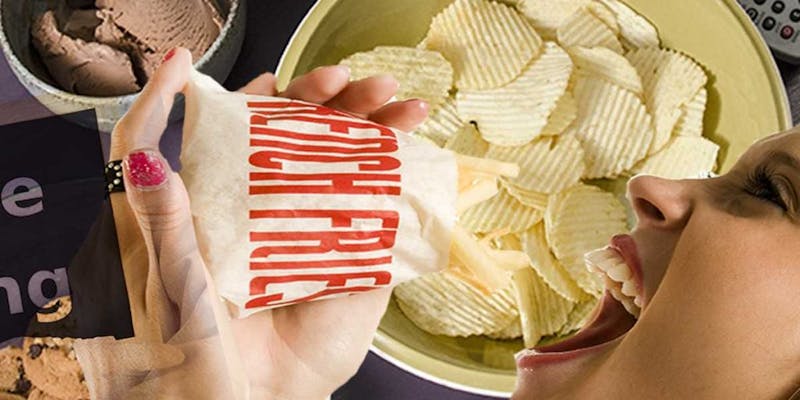 Binge eating is defined as a compulsive overeating. People who binge eat can experience eating enormous amounts of food and feeling powerless to stop. Some patients start at adolescence or at early adulthood, most start after an episode of dieting. Most patients will eat even when they are not hungry and continue to eat long after they feel full, or eat to quickly and not even register what they are eating.
Some key points for binge eating are:
Frequent episodes of uncontrolled eating
Feelings of guilt during or after binge eating
No attempts to "make up" for binge eating (unlike bulimics that provoke vomiting, extended periods of fasting or over exercising)
Patients that binge eat have issues with depression and guilt. They worry about what they are doing to themselves, and yet are unable to stop eating in that manner, sometimes eating in secret because they feel ashamed of eating, but yet finding comfort in eating.
In turn, there are many effects of bine eating on a person. There's the physical aspect that a person who eats in that manner, that they will tend to grow overweight, then obese, which in turn can cause many other complications inherent of obesity itself, such as diabetes, high blood pressure, etc.
The emotional aspect is the feeling of stress or tension where they only feel better after eating, afterwards they can feel depression that is caused by too much eating, that can lead to feeling desperate and perpetuate a vicious cycle. Some effects that can stem from binge eating are stress, insomnia, depression, anxiety and substance abuse.
It is believed that there is a neurological component to binge eating, where the hypothalamus is not sending the proper signals of feeling full and being hungry. Also, low levels of serotonin can play a role in compulsive eating.
Present
Nowadays, were there are many people with depression; they will look for ways to relieve that feeling. Some people will start with exercise, others with other hobbies, and there are many people who will turn to eating for relief of their stress. Also, given the fact that there are many unhealthy foods such as potato chips, processed microwave food, high calorie drinks such as sodas, frappuccinos and energy drinks, there are many ways to have binge eating with extremely high calorie intake.
People need to understand that eating in that fashion is not a healthy stress relief, that there are many ways to vent out that stress such as exercise, taking up a hobby. Also, seeking treatment for binge eating is a very acceptable. It is a multidisciplinary treatment that involves nutritionist, psychiatrists, therapists and obesity specialists.
Prevention
Patients recovering from binge eating disorder can take some time to achieve their goal, but it is crucial for them to have a good support group, and should know they can rely on anyone from this group whenever they are feeling low or are about to return to that habit.