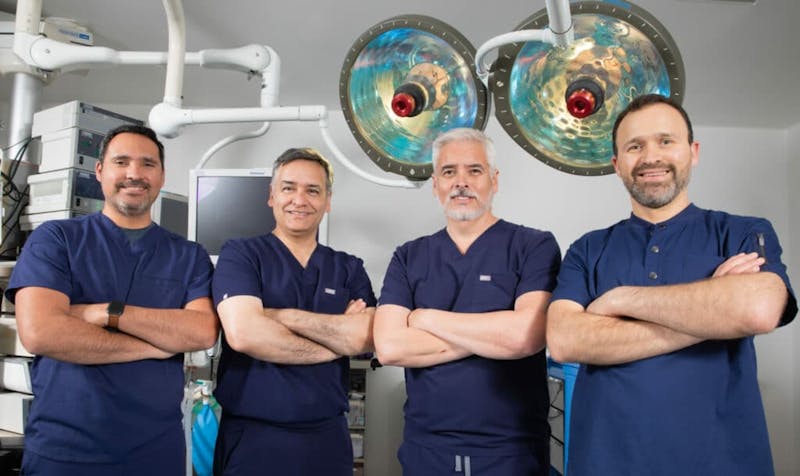 Bariatric surgery is an investment – one you are counting on to change your health and your life. A successful procedure is an essential step in a weight loss journey. In some cases, it might be worth taking your surgery to the next level to ensure this critical tool can help you reach your goal.
Just minutes south of San Diego, OCC is committed to improving bariatric surgery, from the techniques used in the operation room to the post-op care that guides patients throughout their weight-loss journey. With over 50 years of combined experience, our doctors have developed many proprietary techniques in our state-of-the-art surgical center, including the IGS Improved Gastric Sleeve®.
If you didn't have your original gastric sleeve surgery with OCC, and have experienced issues since your first procedure, we also offer revision sleeve surgery using this innovative technique.
Reasons for Revision Surgery
Obesity Control Center has performed numerous gastric sleeve procedures at their state-of-the-art surgical center with tremendous success and few complications.
Dr. Ariel Ortiz® describes the reasoning behind IGS Improved Gastric Sleeve ®: "The normal gastric sleeve is a good procedure, but we want to make it a great procedure." The IGS Improved Gastric Sleeve ® also offers patients who have experienced issues after receiving sleeve treatment elsewhere an opportunity to improve their sleeve at OCC. Below, we list five reasons you might want to give your sleeve an upgrade:
1. Lower Risk for Leaks
It is our surgeons' goal to improve upon the benefits of a regular gastric sleeve while reducing the undesirables. During a typical gastric sleeve procedure, surgeons use a mechanical stapling device to create a long staple line by depositing rows of thousands of titanium staples to close the edges of the stomach shut. These staples are not infallible. Though uncommon, a staple line break-down may occur, causing the gastric acid to leak out and free flow into the abdomen, resulting in peritonitis –a life-threatening complication. This is why we developed the IGS Improved Gastric Sleeve ® to correct known issues associated with regular gastric sleeves and make the procedure a lot safer.
To reinforce the row of staples made on the stomach, we developed The OCC Double Buttress Technique™. The Double Buttress Technique is a second seal over the staple line – a Ziploc® style closure if you will. As a leak-proof seal, the Double Buttress Technique has proven its value. After regular follow-up care, we discovered that the Double Buttress Technique also plays a role in preventing the stretching of the gastric wall or failure of the procedure. This was a simple comparative observation between those patients who had undergone a sleeve procedure elsewhere and our patients who underwent a sleeve procedure at OCC. Those that didn't have the Double Buttress Technique had a higher rate of failure and weight regain –something that is not prevalent in OCC's sleeved patients.
>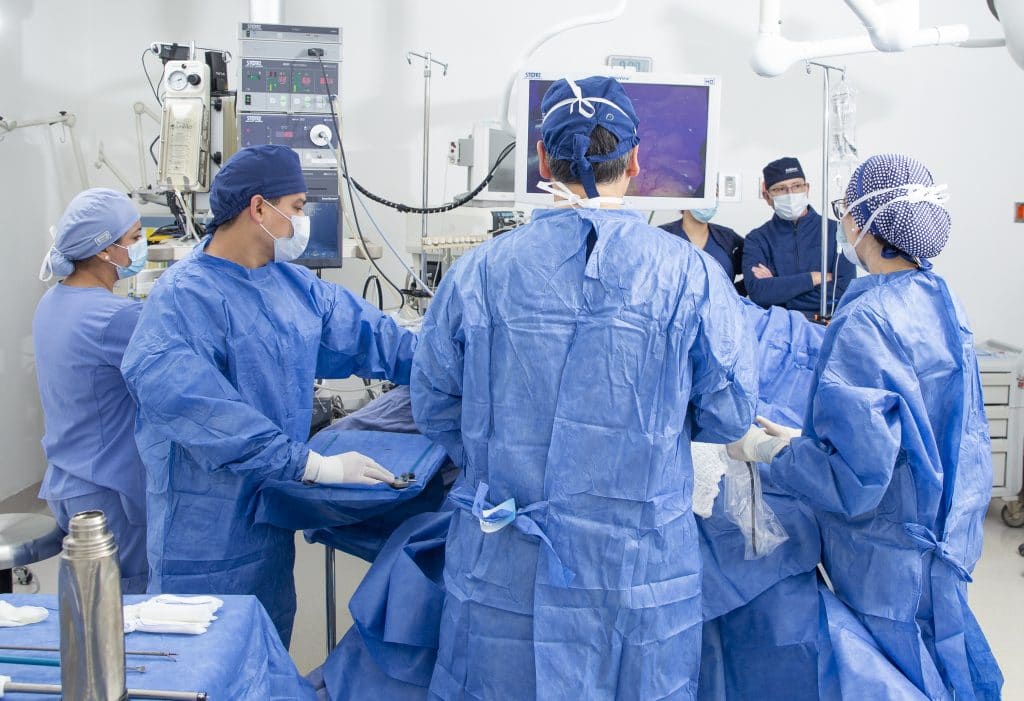 > >
2. Fewer Side Effects
When the OCC surgeons designed Double Buttress Technique, a concept they also envisioned early on was the Micro-calibration™ of the sleeve. It is a technique that utilizes a 32Fr diameter symmetrical calibration tube with axis correction and creates a sleeve that is more uniform and less prone to undesirable symptoms while also enhancing weight loss. A sleeve that is symmetrical and more regular in its length and width does not only make a smoother sleeve but also becomes less prone to strictures, widening, or torsion at its axis.
Calibration of the sleeve can be subjective, but Micro-calibration™ will result in a better-gauged procedure with more measurable outcomes and fewer side effects. As Dr. Ortiz puts it, "You can staple across the dotted line, but if you micro-calibrate it, you're adhering that stomach much more intimately to that calibration tube which means that you create a much more trustworthy, final gauging of that stomach."
3. Reduced Complications
The most frequent complication associated with gastric sleeve is acid reflux disease due to early herniation of the sleeve up into the chest. This can potentially obstruct the passage of food partially or totally. Our Fundic Anchoring™ technique prevents the sleeve from herniating. We do this by anchoring the highest part of the stomach so it doesn't slip up to the chest. The axis correction also keeps the sleeve properly positioned, avoiding kinks and obstructions. Since herniated sleeves cause acid reflux and the fundic anchor prevents the sleeve from herniating, severe heartburn can be avoided.
4. Innovative Technique Creates Ideal Revision Surgery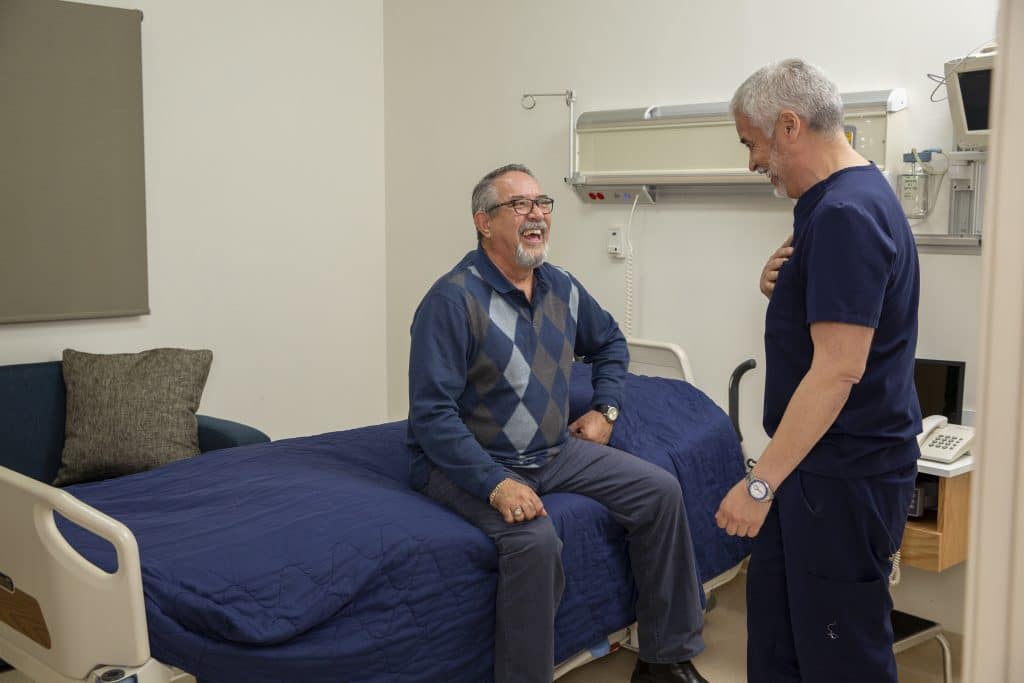 >
One of the greatest innovations of the IGS Improved Gastric Sleeve® is that its techniques make it ideal for those who need a revision or tightening surgery – because it solves the problems of a "sloppy sleeve" that we might see in patients that have had surgery elsewhere. Surgeons performing the IGS Improved Gastric Sleeve® will correct a sleeve's technical issues by sizing it down, using a combined procedure that involves stapling ("re-sleeve") and suturing (gastric plication).
Revision surgery will always be more complex than the initial operation, especially when a portion of the stomach is already gone. Revision surgery requires a certain level of skill and experience to be performed successfully. Dr. Ortiz is a general surgeon specializing in bariatric surgery and has more than two decades of experience in weight-loss surgery. Together with his team, they have performed more than 25,000 successful bariatric procedures with a zero mortality rate and less than 0.2% complication and infection rate. Around 30% of the procedures done at OCC are rescue or revision procedures.
> >
5. Long-Term Support
At OCC, we understand that a successful bariatric procedure does not begin and end in the operating room. The preparation before the surgery and the steps taken afterward all contribute to a patient's outcome. This is why we guide patients with our 5-year post-op care plan. This includes online support groups, US-based on-call patient coordinators, and an app where you receive healthy recipes from OCC's nutritionist, keep track of your progress in real-time, and easily stay in contact with the team. From consultation and surgery to a lifetime of support and assistance, you become a member of the #OCCFamily for life.
Schedule Your Revision Surgery at Our Surgical Center Today
All OCC's surgeons bring their years of experience and commitment to each patient they care for to all techniques they pioneer. We will continue to innovate and discover new ways to provide our patients with the best possible chance for success. If you'd like to learn more about how you could benefit from revision surgery and finally achieve the best health outcomes, contact Obesity Control Center® in Mexico to schedule a consultation.
Share with