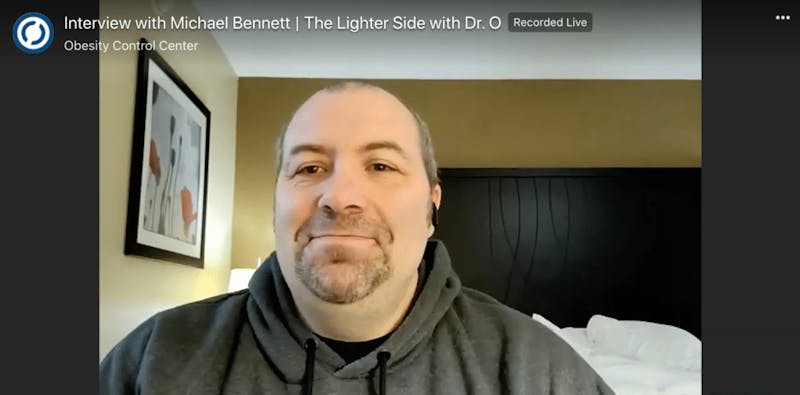 Over 24,000 patients have benefited from weight loss surgery at Obesity Control Center, located just minutes south of San Diego. Still, a question we often hear is, "What is life like right after surgery?" Many have experienced outstanding results that include significant weight loss, enhanced overall health, and improved quality of life during their weight loss journey, but what are those first few weeks after surgery like?
#OCCFamily member Michael Bennet is just one of our many inspiring successes. In his recent Facebook Live interview with Dr. Ariel Ortiz, he shares his weight loss service experience just two weeks after bariatric surgery. His story not only illustrates how OCC's innovative bariatric procedures and comprehensive post-op support help people achieve their weight loss goals but how doing something significant to change one's lifestyle is a journey worth taking.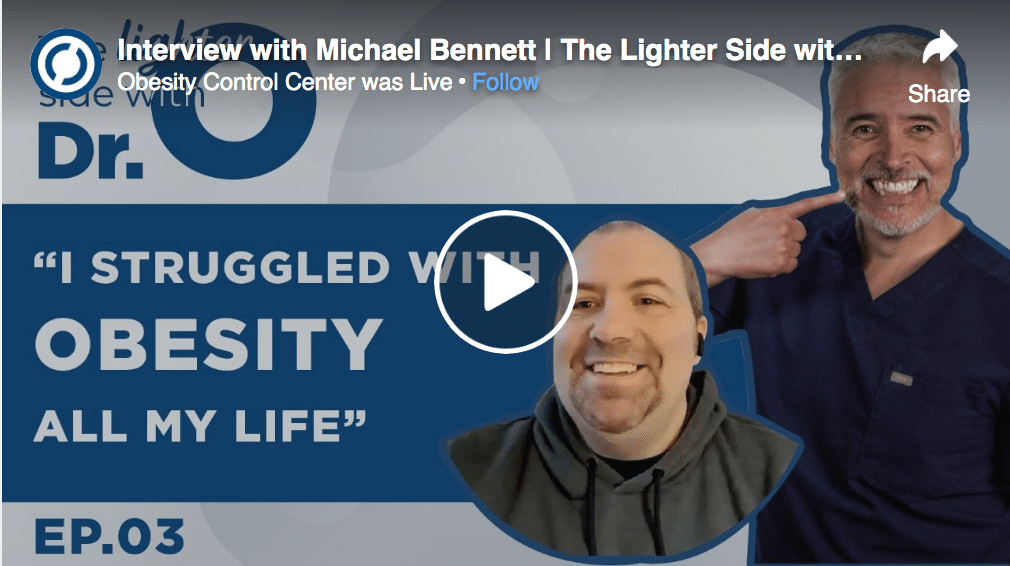 Will I Experience Changes Right Away?
Just two weeks post-op, Michael has already lost 67 pounds, and remarkably, he lost 52 of those pounds before his surgery with help from the pre-op diet provided by OCC. Going on a diet before surgery not only reduces your risk of life-threatening complications but it helps you transition to your new lifestyle post-surgery. Losing weight before surgery will teach you what to eat after the procedure, helping you develop mental awareness about calories, portions, and ingredients. With the right frame of mind, your body will begin to adapt to these changes, which ensures better success after surgery and long-term results.
Incision Needs Time to Heal
Michael's most significant hurdle for post-op recovery was his incision affecting his preferred sleeping position. His incision site was sore for the first few days, and because of its placement, he could not sleep on his side, his preferred sleeping position. If you are a side sleeper, be sure to have a flatter pillow so you can comfortably sleep on your back for a few nights.
But Michael's recovery has been going well. After just two weeks, his spirits are high, and he feels excellent overall.
"There's been no pain," he said. "I feel 100% comfortable. I feel like I can conquer the world, really, so it feels pretty good."
Cravings Fade
Michael started retraining his body and mind during his pre-op diet, and that's when his cravings began to fade. Now, two weeks out from surgery, he's still feeling satisfied without the processed foods he once loved.
"I actually don't feel any hunger," he said. "I've been drinking a lot of broth. I buy some of these little cups of Campbell's soup, and I get half of that cup in, and I feel pretty much full, and I'm satiated, basically, for about 4-5 hours with just that little amount.
Many patients wonder if they'll be able to turn down their favorite treats. Michael can walk by cake, candies, cookies, and all the foods he used to enjoy without hesitation. Dr. Ortiz explains that bariatric surgery and pre-op preparation actually change your metabolism, so you don't experience cravings or hunger.
"I was a pizza guy, but I don't even crave that anymore," Michael said. "It was something that I would have pretty much every day or every other day, and I don't have cravings for any of that stuff anymore at all."
Michael has been able to hit his protein goals with protein shakes since he cannot consume solid foods yet. This way he is able to quickly get the nutrition he needs, even on a liquid diet, and maintain metabolic health. And as part of our 5-year post-op care plan, OCC sends patients dietary guidelines, recipes, and other useful information for every stage in their weight loss journey, helping them ease into their new lifestyle.
Drinking 64oz of water a day is also essential in recovery and maintenance. Michael says he now sips his water instead of gulping it down, which is the healthier way to drink water.
Gain Energy
Bariatric surgery and OCC's post-op care will give you the tools you need to make long-lasting lifestyle changes that will provide you with more energy than before.
"I'm a lot more energetic," Michael said. "The first week or so, I wouldn't say I was tired, but it's like my body's still recovering from surgery, so it kind of took the wind out of my sails, but I feel a lot better. I'm a lot more mobile. I've been able to get up and do more things. I don't feel tired and out of breath."
Weight Melts Away
If you follow the dietary guidelines, the pounds will start fading away, especially for men. Men typically lose weight faster than women after bariatric surgery, but both men and women can reach their weight loss goals. While the numbers on the scale already tell Michael of his weight loss progress, he only recently understood what losing excess weight is really like.
"One of my victories so far is getting in and out of a vehicle," Michael described. "When I (used to) pull my seatbelt out, I only had like an inch or two of seatbelt left. So, if I outgrow this seatbelt, what am I going to do? And now here I am, down 67 pounds in 3-and-a-half months, and I've got 6-8 inches of seatbelt now."
Non-scale victories like the one Michael describes above are a critical component to any weight loss journey. Even when the numbers on the scale don't move as fast as you would like, there are other indications your life is changing for the better. Ability to fit into seats, better sleep, and increased energy levels are just a few of the non-scale victories you have to look forward to as you embark on this process.
This is just the beginning of Michael's weight loss journey. He will be back for another interview to share his new experiences and other milestones achieved. You can follow Dr. Ortiz's page to watch his weekly live interviews with #OCCFamily members.
Improve Your Quality of Life With Weight Loss Service From OCC
If you're wondering if you'll ever lose your excess weight, have more energy, and reduce your health complications, we understand that feeling. Michael is just one of the thousands of patients who felt frustrated until they made the right decision to begin their weight loss journey at Obesity Control Center in Mexico. With over 50 years of combined experience, OCC is considered a world leader in weight loss service. Fully accredited, following the highest US medical safety standards, and using the most cutting-edge techniques, we can help you get your life back. To learn more, contact OCC today.
Share with