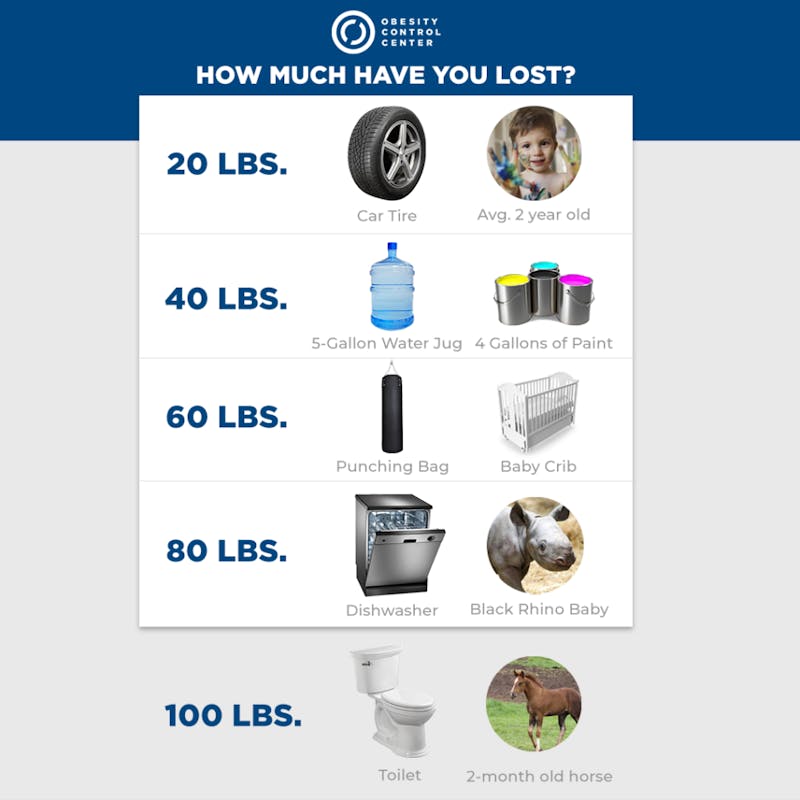 Bariatric surgery for weight loss isn't a quick fix, but its effects can be dramatic, with results peaking one year after surgery. To better maintain and appreciate your body's changes and your new lifestyle, it helps measure your milestones. But we're not talking about obsessing over the numbers that appear on your scale. Try to visualize objects to measure your progress instead. By comparing how much weight you've lost to tangible items you see every day (e.g., a tire or an armchair), the steps you've been taking toward achieving your weight loss goals might not seem so small and insignificant.
Just minutes south of San Diego, the Obesity Control Center in Mexico has over 50 years of combined experience and more than 24,000 successful bariatric surgeries performed. An innovative and industry-leading metabolic weight loss service center of excellence, OCC helps people worldwide achieve their weight loss goals using lifestyle changes and the safest and most modern techniques in bariatric surgery.
Envisioning Your Weight Loss Journey
"I've only lost 40 lbs." How often do we hear people trying to lose weight sound so defeated after seeing numbers on the scale? Sure, 40 might sound like a small number to someone whose goal weight is still 80 pounds away, but did you know that a 5-gallon water jug or an average microwave also weighs around 40 lbs? Focusing on just the numbers isn't the best way to track your progress. One healthier way to do it is by comparing weight loss milestones to actual objects to give you a clear and accurate representation of how much weight you've already lost. Sometimes, all you need are simple reminders of how far you've come on your weight loss journey.
20 lbs: A Car Tire
Losing weight equivalent to a car tire is already a significant achievement. Indeed, you'll start to feel lighter and have a little more energy. Losing this excess weight can even already take away some of the strain on your heart. Weight loss, along with changes in your diet and exercise, can lead to significant improvement of hypertension and other cardiovascular problems. This loss also results in lower LDL cholesterol levels, lower blood pressure, and lower blood sugar levels. To learn more about the health benefits of weight loss, please visit nih.gov.
40 lbs: A 5-Gallon Water Jug
Imagine not having to carry a 5-gallon water jug all day. It is a massive weight off your shoulders! This reduction in weight means more energy and motivation to be more active. For anyone who has been suffering from obesity, excess body weight placed on the joints (e.g., knees and hips) can cause inflammation and pain. Losing weight reduces the strain placed on these joints, helping you become more mobile.
In addition to alleviating joint pain, weight loss can help you sleep better too. The more overweight you are, the greater the amount of fat that can press down on your lungs. There can also be a buildup of fat around the tongue and neck, resulting in sleep apnea. Losing weight after bariatric surgery reduces the fat deposits around the upper airway, eliminating blockage that causes sleep apnea.
60 lbs: Punching Bag
Not having a punching bag attached to you 24/7 is liberating. Staying active will be much easier—you can join your kids at the park, walk to the grocery store, and clean your house without huffing and puffing. With all this energy, you can even revamp your fitness regimen. You can now go for more intense and exciting workouts such as interval training, kickboxing, and CrossFit.
Aside from enjoying all that extra energy, it might be time to give your wardrobe an update too. Rebuild your closet with clothes that fit your new body better. You can stick to your favorite basics that now flatter your unique figure or celebrate your weight loss progress by introducing new colors, prints, and cuts to your looks.
80 lbs: Dishwasher
Losing 80 lbs after weight loss service should allow you to finally live and enjoy your new self—the better, healthier you. Surgery may have resolved some of your metabolic diseases, and you have more energy than before. Take this as an opportunity to do what excess weight has prevented you from pursuing in the past. Comfortably sit on a plane and travel, enjoy amusement park rides to your heart's content, and never feel self-conscious again when watching a baseball game while sitting amidst the crowded bleachers.
>
>
>
> > > >
100 lbs: Toilet
There are many ways to celebrate this significant milestone. You may want to go on an adventure, perhaps, go to a tropical destination and try scuba ing for the first time. Or maybe join fun group activities like dancing. For others, this may serve as an opportunity to explore significant life decisions such as starting a family since weight loss can help resolve infertility issues.
Some patients might also choose to complete their transformation with plastic surgery procedures. Whether you want to remove excess skin after losing weight or you want to focus on a new area of your body to continue your aesthetic transformation, the Ariel Center for Cosmetic Surgery, located just south of San Diego, can help. With procedures such as a tummy tuck, breast lift, or Botox and dermal filler treatments, you can have your face and body reshaped and contoured to achieve your perfect look.
Start Your Journey With Our Weight Loss Service
Calculating your weight through a scale may be a good starting point for tracking your progress, but don't be a slave to those numbers. Using the most innovative techniques and comprehensive 5-year post-op support, we can help you monitor and celebrate your milestones by visualizing your success and focusing on your health. To learn more about reaping bariatric surgery benefits from the experts better, contact Obesity Control Center to learn about your weight loss options in Mexico today.
Share with