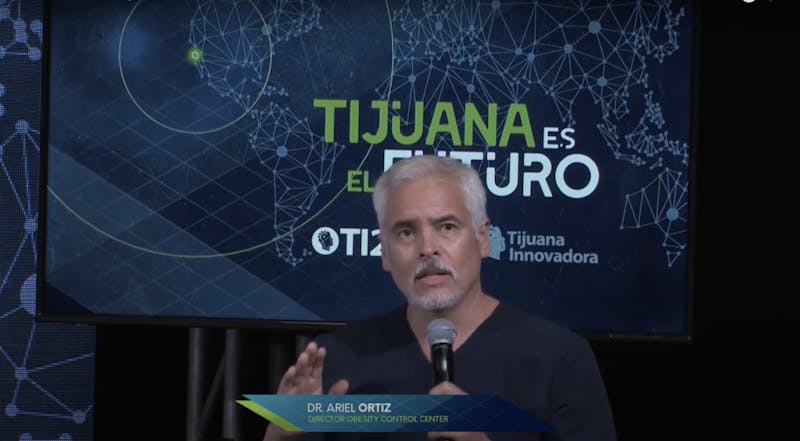 Selecting a bariatric surgeon to entrust with your procedure can be a long process. You may find several who seem qualified and who have been successfully performing the same weight loss services for a while, but have they innovated in their field? Advancements in technology and techniques push the medical field forward and allow for safer surgeries and more successful outcomes.
The Obesity Control Center is dedicated to wholey improving bariatric surgery, from the methods used in the operating room, to the post-op support that guides patients to weight loss success. Our doctors have developed many proprietary techniques that give our patients better outcomes. Our team of bariatric surgeons have performed more than 23,000 successful procedures at our state-of-the-art facility, located just south of San Diego, which is recognized as a Center of Excellence in Metabolic and Bariatric Surgery (COEMBS), has a Joint Commission International (JCI) Gold Seal of Approval®, as well as many other accreditations that point to our high safety standards.
OCC Innovations
The training and more than 60 combined years of experience our doctors have enable them to not only perform the best possible, non-invasive weight loss services for our patients, but to also innovate and improve upon existing techniques and use technology to its fullest to help give our patients better outcomes.
Surgical Innovations
Our doctors created the Improved Gastric Sleeve® (IGS) to address the common problems they were seeing with the regular gastric sleeve in Mexico, such as its 30% failure rate and its tendency to cause acid reflux. The IGS procedure involves creating a vertical sleeve within the stomach. Surgeons do this by stapling through the stomach. This small sleeve minimizes the amount of food your stomach is able to hold. Although the regular gastric sleeve surgery was providing good results, surgeons were seeing many instances of the staples not holding together after some time, and leaking was happening. Leaking not only meant less weight loss was going to occur, but it was also dangerous for the patients. Visit ncbi.nlm.nih.gov to learn more about leak prevention and management.
To prevent leaking, OCC surgeons created the Double Buttress Technique (DBT). The DBT consists of oversewing the long-staple line and creating a leak-proof seal, which makes our IGS safer than the regular gastric sleeve. Since implementing this technique, none of our patients have ever experienced a gastric leak. The thousands of patients we've treated have experienced massive weight loss and metabolic health improvement. The DBT also helps prevent stretching of the stomach, which is vital for this procedure's success. If the stomach stretches, more food can be tolerated, and weight loss will slow. The IGS also minimizes side effects and complications. We also created the Fundic Anchoring Technique, which effectively reduces the risk of herniation and severe chronic acid reflux after surgery.
Technological Innovations
At OCC, we understand that a successful bariatric procedure doesn't begin and end in the operating room. The preparation beforehand and the steps taken after all attribute to a patient's outcome. This is why we created the OCC App as part of our 5-year post-op care plan. With the app, you can track your progress in real-time, receive healthy recipes from OCC's nutritionist, and easily stay in contact with our team.
Dr. Ortiz Shares Innovations at Health Conference
Dr. Ariel Ortiz, the medical director and director of bariatric surgery at OCC, was recently invited to speak about OCC's innovations at the tenth annual Tijuana Innovadora event, a conference highlighting innovation in Tijuana, where OCC is located.
Dr. Ortiz took part in a panel discussion alongside directors of other nearby medical facilities. This was part of the "Tijuana, Model to follow in tourism and well-being" portion of the conference that focussed on healthcare in the area. Dr. Ortiz shared that 25 years ago he realized the importance of metabolic and obesity diseases and decided to dedicate himself to performing weight loss surgery, which led him to train surgeons throughout the United States and Canada and helped establish himself as a bariatric surgery pioneer.
Dr. Ortiz also spoke about how Tijuana's proximity to the United States is a great opportunity for medical facilities. Likewise, he mentioned that for more than 20 years he has used telemedicine and technological tools to ensure that patients make their trips in the most effective way. Thanks to these platforms, OCC can have access to metrics to measure the health status of patients from a distance, which helps us treat patients with higher-quality and personalized care, despite the distance.
Experience OCC's Weight Loss Service Innovations
All our surgeons bring their years of experience and commitment to innovation to each patient they care for. We will continue to innovate and discover new ways to provide our patients with the best possible chance for success. If you are ready to start your weight loss journey and achieve your weight loss and health goals, contact us today and schedule a consultation or call (866) 893-8005 toll-free.
>
>
> > > > > > >
Share with