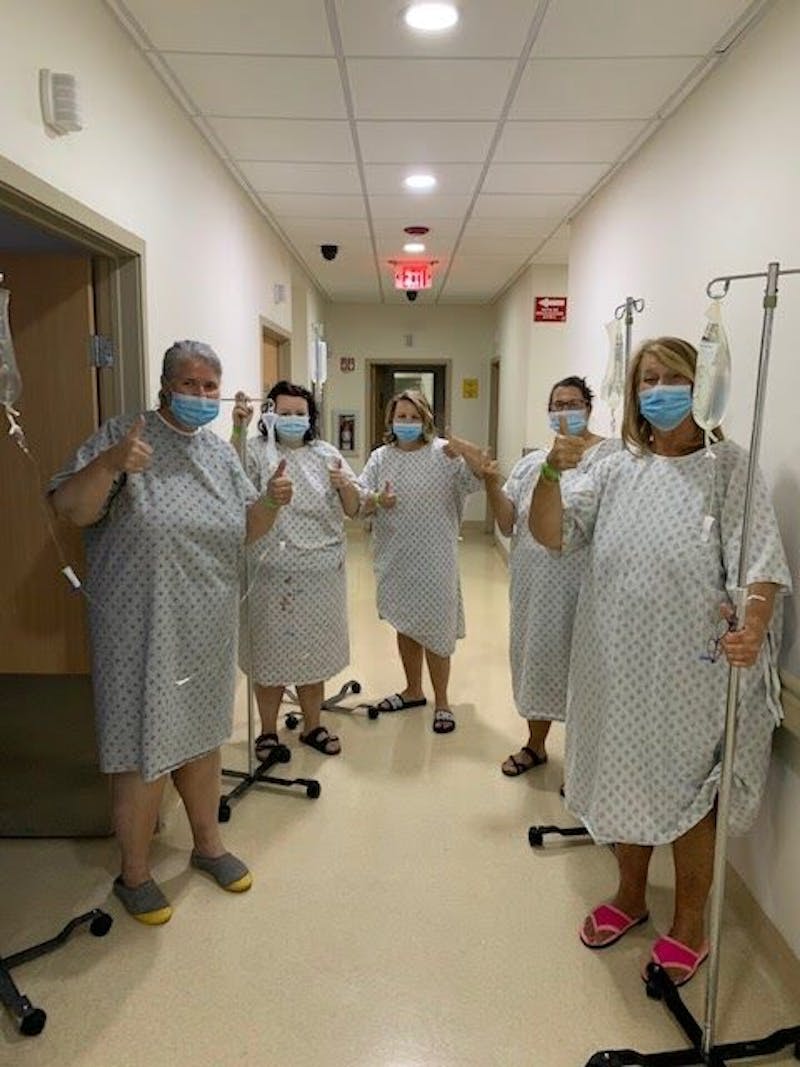 Suzanne Morris, Mikki Griffel, Holly Eriksen, Rebecca Wade, and Mindy Shipley arrived at Obesity Control Center last summer for their IGS Improved Gastric Sleeve® procedures. Almost all of them arrived as strangers, but they left as the "Sleeve Sisters," forming a special bond within the #OCCFamily.
Just minutes south of San Diego, OCC combines modern technology, innovative techniques, and comprehensive post-op support to help people from around the world achieve their weight-loss goals and become members of the #OCCFamily for life. Dr. Ariel Ortiz interviewed the Sleeve Sisters on his Facebook Live series, The Lighter Side with Dr. O. Below, we're sharing highlights from their interview and the journey of the Sleeve Sisters to see how far they've come since their weight loss surgeries and how being part of the #OCCFamily has changed their lives.
Mindy Shipley: 73 lbs. Lost
Mindy Shipley let her fears and uncertainties rule her life before finally deciding to receive weight loss service. She was afraid of failing, and it was her kids who encouraged her to take the leap of faith. Since her surgery, she's had no regrets. She is back on the tennis court and feels amazed by the many things she can now do.
"My life has opened up," she says. "It is so big, even under COVID." And when she's watching movies or television, she'll find herself saying, "I can do that now. The weight limitations aren't there."She's also incredibly grateful for her support group, which is an essential component of OCC's post-op program. She's in constant communication with her fellow Sleeve Sisters. She says they text almost every single day—whether it's about a new recipe or encouraging each other if they find themselves stalling. They keep each other in check.
>
> >
>
Rebecca Wade: 116 lbs. Lost
Rebecca Wade wasn't afraid of surgery. She was ready for it. She knew she needed to make a change when she started waking up in the middle of the night with aches in her legs and had to rub on ointment to ease the pain. But she hasn't done that since losing weight. Her knees don't give her trouble anymore, and she can comfortably exercise at the gym.
This is how life-changing gastric sleeve surgery can be. At OCC, we have pioneered multiple weight-loss surgery techniques for stomach sparing gastric sleeve surgery in Mexico. And these procedures don't just help patients lose weight. Other weight-related health conditions such as muscle and joint pain are resolved too, helping patients like Rebecca get a new lease in life.
"I have a lot more confidence," Rebecca says. "I don't have the pain and discomfort that I've had before."
> >
Mikki Griffel: 100 lbs. Lost
Mikki Griffel always worked jobs where she was on her feet all day, and she says it was brutal. Now Mikki works her 8-hour shifts and feels absolutely fine. Mikki's transformation has not been easy, she says. She still wants to reach out for comfort foods but understands the importance of being mentally strong.
"It's about self-control, and (weight loss service) is not a quick fix," she said. "It's something you have to work on."This is why OCC creates a supportive family atmosphere. We provide our trusted solutions with care and ongoing support, including tools that help you build and sustain the right mindset to make your weight loss journey a success. We stay with patients for 5+ years after surgery through private support groups, our app, and constant email/phone communication. We are with you every step of the way.
>
> >
>
Suzanne Morris: 80 lbs. Lost
In her 20s, Suzanne Morris snow skied all the time, but she stopped 30 years ago because she thought her knees couldn't handle it any longer and wanted to avoid injury. Since her surgery, she has gone snow skiing, jet skiing, and even skying.
"The world has opened up for me, and it's so fun to embrace," Suzanne says. She isn't even hesitant to try new physical activities such as weight training. "I can do it. I don't feel ridiculous. Every day I feel stronger and leaner and better."
She still craves processed food and admits avoiding them is still a challenge. For her, it's all about keeping awareness, not focusing on the scale but taking body measurements instead, and desiring a new, healthier lifestyle. The weight-loss journey is a healing process and depends on nutrition and mental strength to heal the body.
> >
Holly Eriksen: 51 lbs. Lost
Holly Eriksen experienced how much weight loss surgery is a mental game, especially with the challenges she faced when she tried to get surgery in the US. She could not understand the contradicting issues of having to gain extra weight so she'd be taken more seriously as a patient and having to follow the pre-op diet to lose weight and become eligible for surgery. Her brother had gastric bypass in the US and struggled with it. However, her friend who went to OCC for surgery just breezed through it. Her friend answered all of her questions, and she never felt alone throughout the process. This easily convinced Holly to have her surgery at OCC.
OCC understands the reality of how difficult it is to get surgery in the US because of all the red tape involved. In Mexico, we can fast-track the surgery and have patients safely prepared from consultation to surgery in as little as 4-6 weeks. Holly says it best:
"At OCC, you are not just a number. You are loved inidually."
Join the #OCCFamily
From the very beginning of your journey with OCC, you are already treated like family. You will be provided with a full concierge service including airport pick-up to airport drop-off, a five-star hotel just over the border to undergo surgery and early recovery in comfort, and five years of post-surgery support. There are no middlemen or brokers. From consultation and surgery to a lifetime of support and assistance, you become a member of the #OCCFamily.
With over 24,000 surgeries performed and countless innovations, we have also perfected the management of weight loss that comes after bariatric surgery. We understand that there are several phases of weight management, and each step has its own set of objectives and specific recommendations. We will guide you through each stage as you progress into weight stabilization.
Begin Your Journey Today With Weight Loss Service From Obesity Control Center
At OCC, your success is our success. With our cutting-edge techniques, a state-of-the-art facility with the highest safety standards, and our passion to help patients live their happiest, healthiest lives possible, we are more than equipped to help you jumpstart your journey. To learn more, contact Obesity Control Center in Mexico to schedule a consultation.
Share with